ORIGINAL POST- 10/30/2018 3:04:08 PM By Dewayne Cook from KSID Radio in Sidney Nebraska
SIDNEY, Neb. – In a digital world, more businesses are finding customers asking, 'Are you online?' 'Can I see/buy your product on the Internet?' 'Where can I find more information?'. Now, the Cheyenne County Chamber of Commerce is hoping to help those local businesses trying to still find their online presence with cheyennecounty.shopewhereilive.com.
Shop Where I Live is an e-commerce and lead generated marketplace service based out of Marion, Iowa. The husband-wife team of Cherie and Robert Edilson work directly with a local Chamber of Commerce to create an all encompassing website to promote businesses in the area. City of Sidney Economic Development Director, Melissa Norgard, found the online service, contacted the Edilsons, and connected them with Cheyenne County Chamber President/CEO, Hope Feeney.
After doing some research of her own, Feeney approached several businesses in Cheyenne County to gauge their reaction on if they would be interested in utilizing a service like this. According to her, the response was, "overwhelming positive," so the Chamber moved forward with the venture.
"It's currently up and going, and ready to add businesses to! So we're really excited about it," Feeney said. "It's a great tool for our businesses, as well as people who shop at these stores too, so they can maybe, potentially, buy things online, or look at different sales they have coming up in the future, all in one place."
By just submitting photos and descriptions of their product to Shop Where I Live, the company will create a website best suited for each individual business. The service is paid for by the Chamber with a yearly subscription fee, and businesses then pay the Chamber for their involvement. Feeney explained Chamber businesses do receive a discount on their monthly rate, but any business is able to participate and have a presence with Shop Cheyenne County.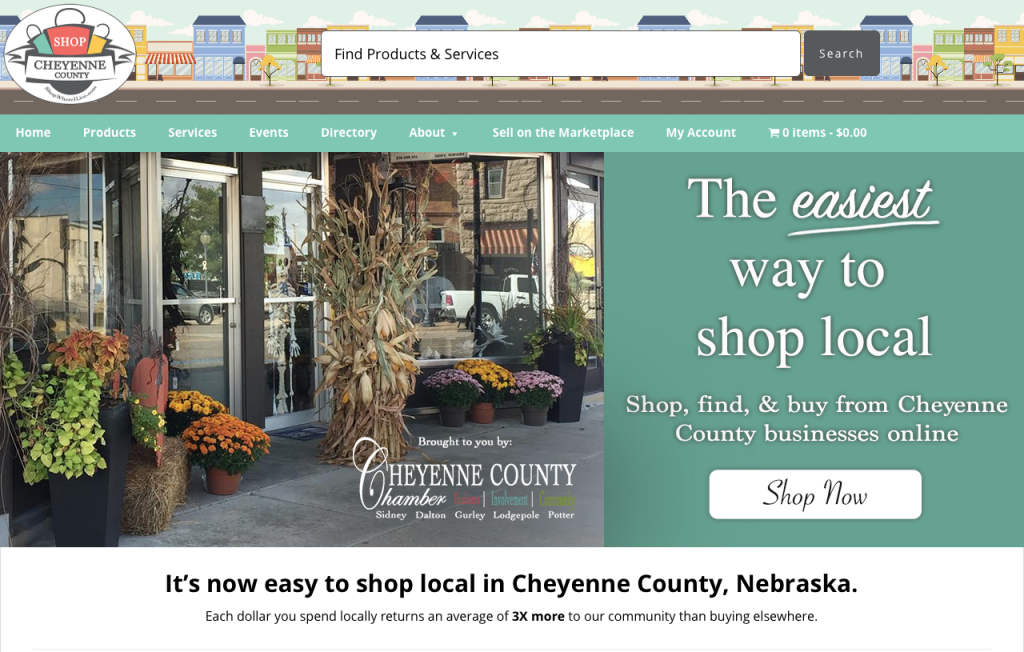 Feeney hopes every business in the County will sign up for this service and help promote the area to visitors and locals. While the site is live now, there's still plenty of room to grow, she says, and the Chamber is getting ready to market the online service heavily.
"What we plan on doing is promoting it at any tournaments, the Holiday Tournament coming up, we plan on putting the link out there," Feeney explained. "Really, what we envision for this site, is that everything will be on there. If someone is coming to town and they want to see what kind of pizza places we offer, what kind of entertainment we have, we want to see all of that on there. We're really hoping that people are as excited about it as we are, and we really have seen that already with the sample of businesses that we've talked to."
This service is offered to any businesses located in Cheyenne County, with two types of participation available: lead generation and e-commerce. For more information, contact the Chamber at (308)254-5851, or email director@cheyennecountychamber.com.