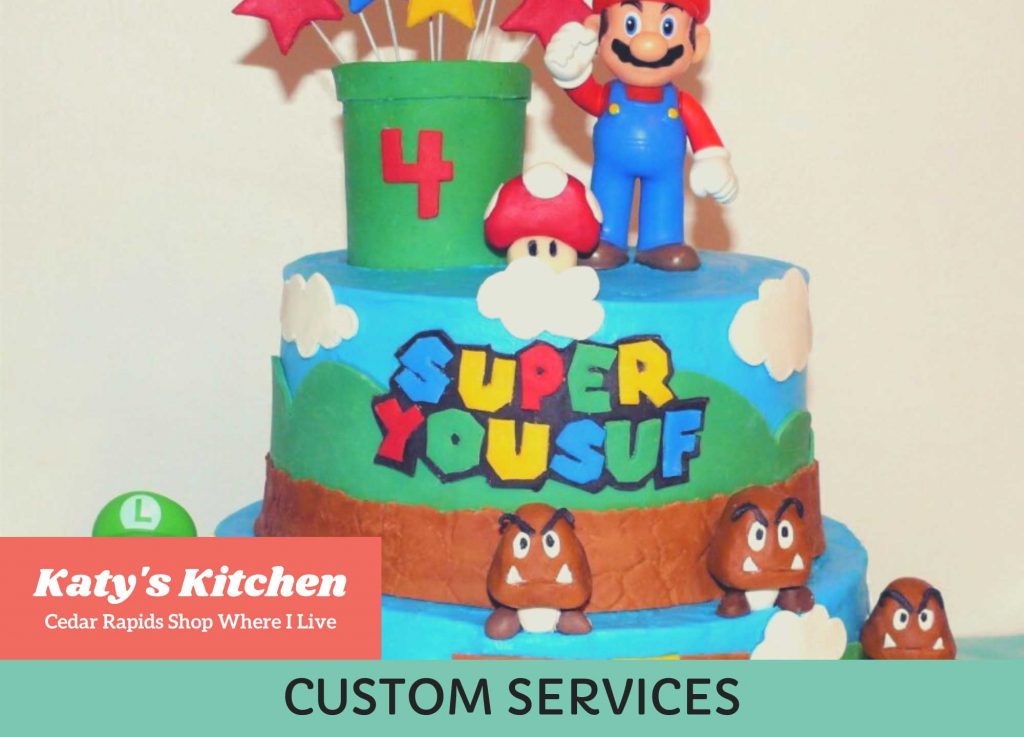 Katy Sennett, Owner of Katy's Kitchen, creates custom cakes, cookies, and other delicious treats on our Cedar Rapids Shop Where I Live site. Katy utilizes Shop Where I Live to showcase her many creations, organizing them within products, helping to educate customers on her past work for various events.
Katy's shop is not e-commerce, but a custom service shop. Each product within her shop showcases her work. Example products include: Character Birthday Cakes, Wedding Cakes, Baby Shower Cakes, Character Cookies, School & Logo Cookies, Cake Pops, Sport-Themed Cookies, and more. Once you click into one of these products, you'll see all of her past work related to that product, giving trust to new customers that she can execute on their similar cake/cookie need. They may even find a past example of her work that they want to replicate for one of their themed cakes.
Katy's schedule is typically packed full of custom orders. However, once in a while, Katy also takes advantage of the fact that she can easily sell online within the site if she wants to. Usually around the holidays, Katy will open up her shop for orders of certain types of products. Around Christmas she'll make themed cookie sets, DIY cookie decorating sets, gift-giving sets, and more. She can tell her customers to place their orders in advance, and she specifies pick up dates that they can choose as the holiday rolls near. This is a perfect scenario for Katy's type of business, as she doesn't need e-commerce all year round, but can take advantage of it when she so chooses.