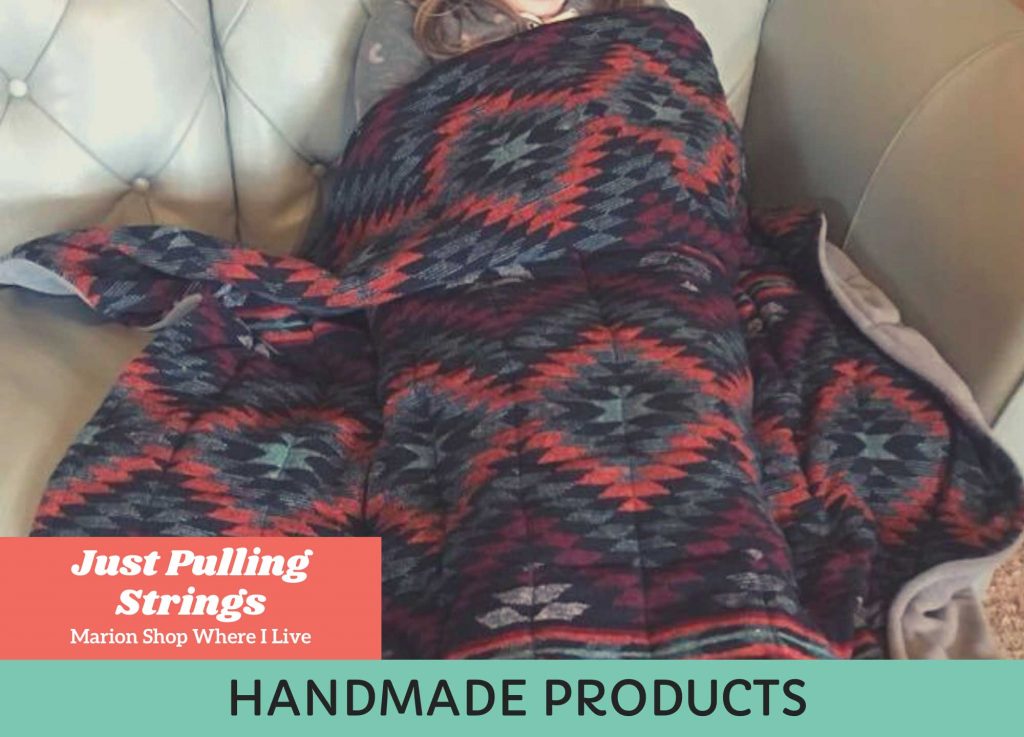 Lisa Pope, Owner of Just Pulling Strings makes handmade products that help to soothe, comfort, and help those with sensory processing disorders and more. Specializing in Weighted Blankets, Lisa creates blankets in various sizes, weights, and fabrics. Her blankets help those that can benefit from the extra pressure of a weighted blanket, and customizes the weight in accordance with the receivers body weight. Her customers can choose one of her pre-made blanket sizes, then add weight to the blanket by 1 lb. increments, increasing the price by $2.50/lb., to get to 10% of the receivers body weight.
For further customization of her weighted blankets, customers can choose a size, fabric, and weight, all which may change the price of the product. Lisa utilizes our variable product status for most of her items, so the customers can make it to fit their needs. She also likes the fact that the Shop Where I Live team is there to help review and/or edit her product submissions to ensure they calculate correctly for customers.
Lisa has also created a few products that are ready to go without customizations. She does the work to create the product, and can utilize Shop Where I Live to get the item listed and out her customers within just a few minutes of adding it to the site.
Lisa has used our coupon codes to give discounts and free shipping to some of her customers. We really enjoy working with Lisa, and seeing her business help those that can benefit from her handmade products.