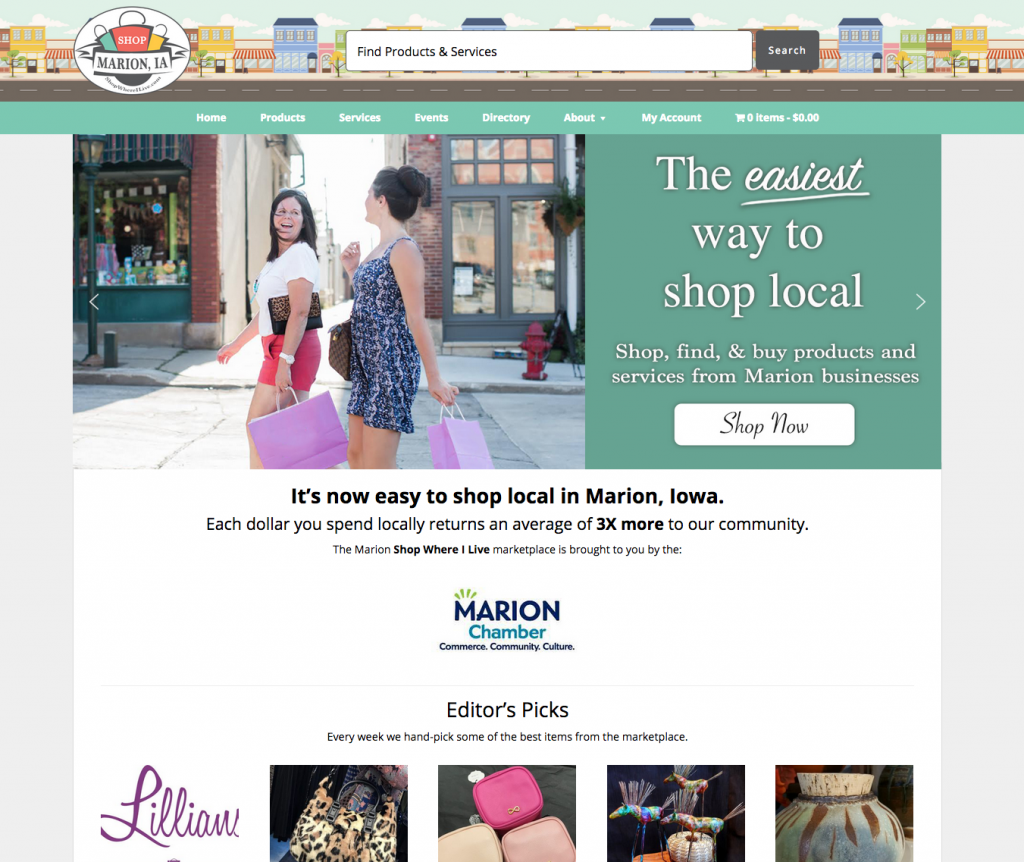 MARION, Iowa (Jan. 8, 2019) – The Marion Chamber of Commerce has brought a whole new way to shop local through a new online marketplace called Shop Where I Live. Working with Member Marketplace Inc., a Marion-based business that specializes in e-commerce websites for membership organizations, the marketplace will be a one-stop shop for the Marion community to find, shop and buy from local businesses.
Shop Where I Live promotes both product and service-based businesses, with secure e-commerce functionality for shoppers to purchase products from multiple businesses at once. Shoppers can also send messages directly to businesses to learn more about individual products before purchasing. As an added convenience, a local delivery option is also available to shoppers.
"We identified e-commerce as a priority initiative, as e-commerce is one of bricks and mortar's greatest competitors. We are excited to work with Shop Where I Live to help Marion small businesses maintain an e-commerce platform together to reach a wider audience beyond their own," said Jill Ackerman, President, Marion Chamber of Commerce. "If we can make this a destination that Marion shoppers go to first when shopping online, it's a win for our local businesses."
"I think many people really do want to shop local and support their community, friends, and neighbors, but many of them are very busy and don't always have the time to research individual businesses online or go into multiple stores to find something they're looking for," said Cherie Edilson, CEO of Member Marketplace, Inc. "With Shop Where I Live, you now have one place to go online to shop local, find what you need and even come across some amazing businesses that you didn't know were right here in Marion."
Marion businesses that want to sell on the marketplace pay a small monthly or annual fee, and gain an easy-to-use backend to manage their shop and product information. Additionally, Marion Chamber of Commerce member businesses receive a discount on participation fees. The Shop Where I Live team provides ongoing support to all businesses, along with tools and resources to help businesses get everything up and running.
To visit the Marion Shop Where I Live website go to: marion.shopwhereilive.com
###
Media Contact:
Cherie Edilson
cherie@shopwhereilive.com
833-278-2742