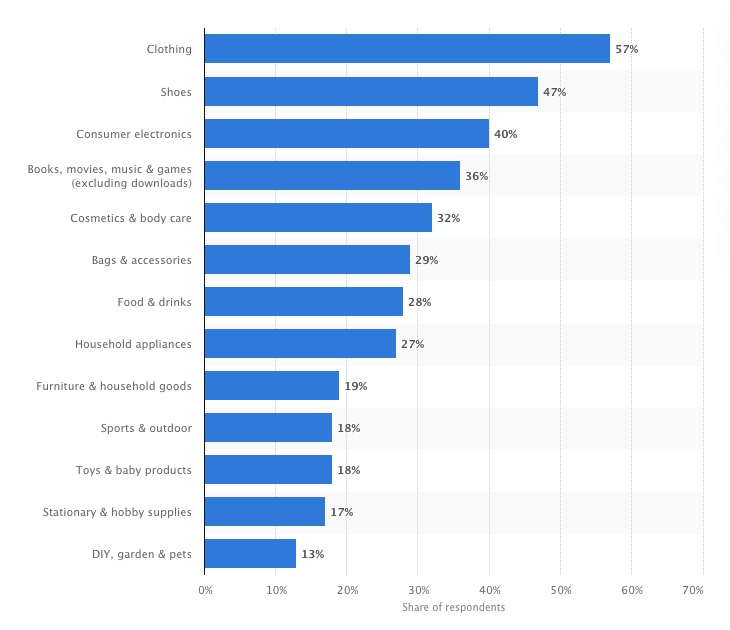 Online shopping has completely disrupted local retail.
The correlation between 2019 marking the biggest year yet for retail store closures and the rise of online shopping is undeniable. Four years ago, just 7.4% of all retail sales were online, but in 2019 that number doubled to 14.1%. It is estimated that in four more years, 22% of retail sales will come from online channels (Statista). And by year 2040, estimates say 95% of all sales will be online.
Amazon is the leader in U.S. online sales, and has significantly changed the way people shop. With retail stores closing at a record speed, some say Amazon is to blame. However, an equal side to the argument is that small businesses, as a whole, are late adopters to technology. In fact, according to a recent survey, over one-third of small business owners consider themselves late tech adopters, even when it can make or break their business.
It's imperative that small business owners understand the future of retail.
Online shopping is a dream come true for the customer—shopping from the couch, an abundance of products and information, price transparency, and easy delivery and returns. However, online retail is a nightmare for many small local businesses that do not yet have the resources, understanding, or budget to effectively sell online. Seventy-one percent of small business owners do not currently sell products online. It is hard for business owners to justify the cost and learning curve of new technology until it's absolutely necessary. 
The time has come to adopt online retailing.
So many industries have already moved online, including travel, music, and books. Can you imagine a world where you couldn't book flights or hotels online? If you wanted to listen to a song in the past, you either had to buy the new CD or wait for it to come on the radio. Want to read the latest book? You can download it on the internet or have it read to you while you workout, there's no need to own physical books anymore. And while the the previous ways of purchasing these aren't gone (we still have books, CD's, and travel agents), moving to online methods expands those sales even further.
Retail, too, has moved online. Some of the largest categories for online sales include apparel and accessories, electronics, and home goods. However, if you want to buy those items from a local business… get in your car, drive to the business during open hours, and hope they have in stock what you need. This is the experience when shopping from most small businesses, and this is an archaic method.
Selling online gives customers options to buy from small businesses in a way that works for the customer. A small business that has their products for sale online and in-store is similar to allowing a customer to pay with cash or credit. Forcing a customer to pay only by cash can be a bad experience for a customer. Depending on the customers' need, forcing a customer to buy only in your brick and mortar store can also be a bad experience.
Customers aren't going to tolerate this much longer when there are an abundance of easier methods to buy what they want. Conventional brick & mortar shops MUST adopt an entirely new perspective and blend in-store and online retailing methods, or risk other online retailers taking a significant portion of their sales.
Shop Where I Live can help
It can be expensive and time consuming for a small business to create their own e-commerce website, and they may not have the ability to keep it up on their own. ShopWhereILive.com was created to help small business owners bridge the gap to online selling. The platform allows businesses to sell online with other small business owners in their own community, giving one website for customers to browse when looking for items locally. It's an affordable option to quickly sell online, and an adaptable platform fit for most small businesses.
We encourage small businesses, community members, and community builders to reach out and see how to get your community to shop where they live. Contact us.